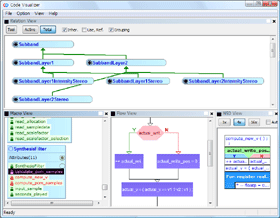 Code Visualizer
Ultimate Visual Soultion for C/C++
Get more comprehension with Code Visualizer. Save your time from reading and understanding from text source codes. Code Visualizer provides various point of views from C/C++ source code files. Code Visualizer provides Macro View, Flow View, NSD View, Relation View, Sequence View, Multi-Sequence View and Project Statistics. Code Visualizer support wide range Visual C++ workspace files from Visual C++ 6.0 to Visual Studio 2008. Code Visualizer is very easy to use, and including powerful C/C++ analysis engine and intuitive drawing engine. Code Visualizer really saves your valuable times.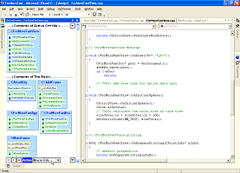 ActiveDrawer
Visual Studio addin Visualizer
ActiveDrawer is a real-time visual-drawer for Visual C++. ActiveDrawer is a amazing Visual C++ addin program. ActiveDrawer provide various point of views from activing C++ project on Visual C++. ActiveDrawer provide Active File View, Macro File View, Macro Project View, Function Flow View, Function NSD View and Macro Relation View. ActiveDrawer also provide programmer guide document called ActiveHelp. ActiveDrawer cooperate between user and Visual Studio for more enhanced result. ActiveDrawer upgrading continuous, and finally you will get more enhancements sometime in the near future.